We invite you to join a dedicated group of organizations who support the Manitoba GIS User Group
By sponsoring us you increase your organization's exposure to a diverse audience of 2000+ geomatics professionals, including decision-makers from across Manitoba and Canada throughout the year. We've hosted speakers from Microsoft, Parks Canada, Manitoba Hydro, Natural Resources Canada, Manitoba Transportation & Infrastructure, the Department of National Defense, the University of Manitoba and more! We look forward to working with you to maximize your benefits and experience with the community!
Opportunities
Generous support is what makes our GIS community and education events possible! We are always excited to have new and returning individuals come and engage with the group!
Due to the general public health situation having improved since last year, MGUG reverted to the 'classic' multi-tiered sponsor level structure we held prior to the start of the COVID-19 Pandemic, where organizations can support us according to a level comfortable for them. We are preserving the $250 online exclusive advertising plan that we created in March 2020. Please see the chart below for details on current sponsor offerings!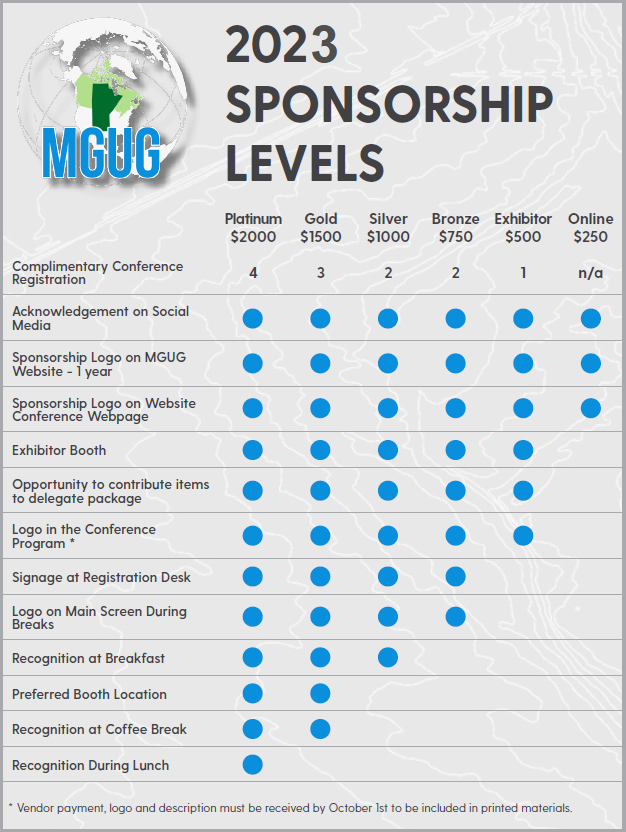 Please email us at sponsorship@mgug.ca to discuss how we can best support you!